In this exercise I am to research Chanel's use of tweed in garment design, starting with the Autumn 2013 ready to wear collection.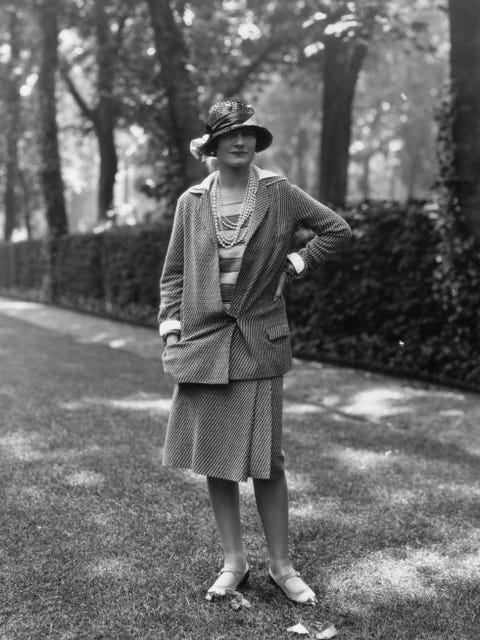 Coco Chanel, then girlfriend to the Duke of Westminster, introduced the idea of a tweed suit in 1925 inspired by the Dukes sportswear. She believed that menswear was a lot more comfortable than pre-war womenswear and wished to free us all from the shackles of restrictive corsets and long skirts.
Made from Scottish manufactured tweed, the fabric, initially at least, was not renowned for its glamorous properties. She began a phase of experimentation and reimagining of the fabric which has continued through the decades as the fashion house (now based in France) continues to thrive.
I started to search the Internet looking for information about the history of the different types of tweed Chanel have used in their jackets. Weirdly, I couldn't find any. After a few hours looking down different avenues of inquiry I even checked out a few different student blogs looking for clues about were other people had been researching. I found many broken links, a few that led nowhere and others who hadnt attempted the exercise at all.
I'm afraid the only Chanel tweed related information I could find were videos on Youtube. I'll happily have another bash at this exercise if I can be pointed in the right direction for information?
CR Fashion Book. (2019). The History of the Chanel Tweed Suit. [online] Available at: https://www.crfashionbook.com/fashion/a26551426/history-of-chanel-tweed-suit/ [Accessed 28 Dec. 2019].
ELLE. (2019). How Coco Chanel Discovered Her Iconic Tweed. [online] Available at: https://www.elle.com/fashion/news/a15402/the-story-of-chanels-tweed/ [Accessed 28 Dec. 2019].
Vogue.co.uk. (2019). Chanel Autumn/Winter 2013 Ready-To-Wear show report. [online] Available at: https://www.vogue.co.uk/shows/autumn-winter-2013-ready-to-wear/chanel [Accessed 28 Dec. 2019].
Neonscope. (2019). NEONSCOPE – Tweed Technology by Chanel Fall Winter 2013. [online] Available at: https://blog.neonscope.com/Fashion/Couture&Bridal/457-tweed-technology-by-chanel [Accessed 28 Dec. 2019].
Tweed Fabrics – Luxury Types, a. (2019). Tweed Fabric Guide: Wool Tweed, Cotton Tweed and Luxury Boucle Fashion Fabric for Legendary Suits in Chanel Style. [online] Tissura.com. Available at: https://tissura.com/articles/tweed-fabrics [Accessed 28 Dec. 2019].